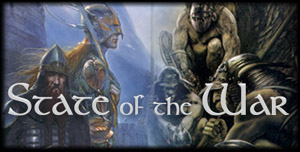 Warlords Hall of Fame
Armies of the West

Forces of the Dark Lord

Rank
Name
Race
Class
Rank
Name
Race
Class
1
Gilhdur
Half-Elf
Patriarch
1
Granzu
Tarkhnarb Orc
Champion
2
Fastolph
Harfoot
Scout
2
Piglet
Zaugurz Orc
Adventurer
3
Daerandir
Silvan
Ranger
3
Telperién
Black Númenórean
Scholar
4
Shaïgan
Dwarf
Hero
4
Puncher
Cave Troll
Smasher
5
Fejd
Stoor
Champion
5
Svarten
Mountain Troll
Adventurer
6
Nimmeth
Noldo
Chieftain
6
Block
Cave Troll
Wrecker
7
Robal
Dwarf
Battlemaster
7
Kyoko
Tarkhnarb Orc
Murderer
8
Bigbur
Dwarf
Adventurer
8
Heretic
Tarkhnarb Orc
Murderer
9
Bafo
Dwarf
Mountaineer
9
Emrevô
Tarkhnarb Orc
Fighter
10
Sazukeka
Eriadorian
Wizard
10
Mabók
Tarkhnarb Orc
Murderer
War status
The armies of the West prevail over the forces of the Dark Lord.
Fighting has been limited to a few skirmishes.
A few soldiers of the Free People were boldly slain, latest kill being 32 days ago.


This page was generated on Thu Aug 17 15:13:28 2017 UTC by MUME. Reload it to get an updated list.