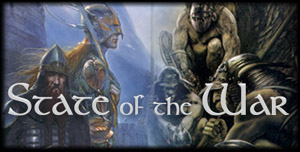 Warlords Hall of Fame
Armies of the West

Forces of the Dark Lord

Rank
Name
Race
Class
Rank
Name
Race
Class
1
Kili
Dwarf
Adventurer
1
Heretic
Tarkhnarb Orc
Murderer
2
Elerin
Noldo
Heroine
2
Granzu
Tarkhnarb Orc
Champion
3
Gilhdur
Half-Elf
Patriarch
3
Svarten
Mountain Troll
Adventurer
4
Marie
Rohir
Battlemistress
4
Zaghnar
Zaugurz Orc
Battlemaster
5
Volcam
Half-Elf
Champion
5
Dong
Black Númenórean
Beastmaster
6
Nimmeth
Noldo
Chieftain
6
Telperién
Black Númenórean
Scholar
7
Mulgrim
Beorning
Hunter
7
Headmaster
Mountain Troll
Wrecker
8
Daerandir
Silvan
Ranger
8
Järv
Zaugurz Orc
Battlemaster
9
Winny
Beorning
Fighter
9
Oedipus
Black Númenórean
Ranger
10
Kiv
Half-Elf
Patriarch
10
Puncher
Cave Troll
Smasher
War status
The armies of the West prevail over the forces of the Dark Lord.
Fighting has been limited to a few skirmishes.
A few great captains of the Dark Lord were boldly slain, latest kill being 1 day ago.


This page was generated on Tue Sep 19 14:54:55 2017 UTC by MUME. Reload it to get an updated list.