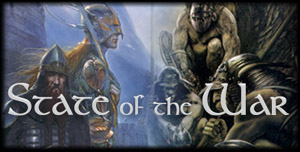 Warlords Hall of Fame
Armies of the West

Forces of the Dark Lord

Rank
Name
Race
Class
Rank
Name
Race
Class
1
Uge
Dwarf
Champion
1
Zant
Zaugurz Orc
Warrior
2
Gilhdur
Half-Elf
Patriarch
2
Yzholk
Mountain Troll
Smasher
3
Blinky
Harfoot
Champion
3
Seopa
Mountain Troll
Wrecker
4
Sorry
Half-Elf
Hero
4
Zíntilden
Zaugurz Orc
Scout
5
Merilder
Silvan
Wizard
5
Knowo
Zaugurz Orc
Veteran
6
Azûira
Noldo
Wizard
6
Svarten
Mountain Troll
Adventurer
7
Daerandir
Silvan
Ranger
7
Elfsmasher
Cave Troll
Fighter
8
Narugil
Noldo
Wizard
8
Mephistophilis
Black Númenórean
Warlock
9
Sudo
Noldo
Hero
9
Murduk
Tarkhnarb Orc
Weaponsmaster
10
Mulgrim
Beorning
Hunter
10
Auge
Zaugurz Orc
Assassin
War status
The forces of the Dark Lord are matched by the armies of the West.
Fighting has been limited to a few skirmishes.
A few soldiers of the Dark Lord were boldly slain, latest kill being 11 days ago.


This page was generated on Tue Nov 20 13:37:45 2018 UTC by MUME. Reload it to get an updated list.